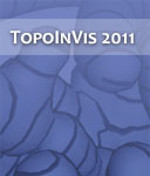 2011-04-04
Workshop
TopoInVis 2011 in Zurich, Switzerland, will follow the three successful workshops in 2005(Budmerice, Slovakia), 2007 (Leipzig, Germany) and 2009 (Salt Lake City, USA). It will be held in an open atmosphere of informal discussions, open exchange and personal interaction. Submissions are peer-reviewed before the workshop. All accepted papers must be presented at the workshop.
Contact Helwig.Hauser
UiB.no in case of interest and/or questions.